Characterization of virulence mechanisms of Bordetella pertussis using human airway tissue model Systems
Bordetella pertussis is an obligate human pathogen and the etiological agent of whooping cough. The bacteria specifically adhere to the ciliated airway epithelium. The production of certain virulence factors leads to dramatic tissue damage and to massive mucus production.
So far, relatively little is known about the reaction of the airway cells upon bacterial infection. Since several of the toxins produced by B. pertussis (e.g. pertussis toxin and adenylate cyclase toxin) directly interfere with signal transduction systems of the host cells, the characterization of these systems is of special importance to understand the impact of infection on the tissue. In addition, the in vivo contribution of these virulence factors to clinical relevant symptoms of the disease is poorly understood.
In cooperation with Maria Steinke (Chair of Tissue Engineering and Regenerative Medicine, University of Würzburg) we use primary 2D cell culture models and develop 3D tissue models of the human airway mucosa to investigate the interaction of the bacteria and their virulence factors with these human tissue models which highly resemble the in vivo situation.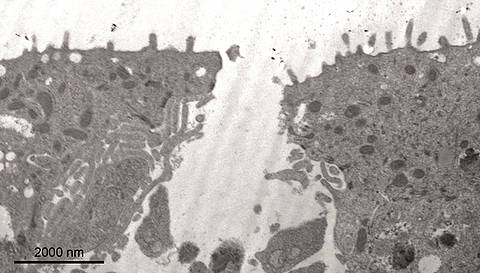 We thank the German Research Coucil (DFG) for funding this project within the graduate school GRK 2157.