Biozentrums-Tag 2015 und Sommerfest
07/22/2015
Am 15. Juli 2015 fand bei prächtigem Wetter wieder das traditionelle Sommerfest des Biozentrums mit Preisverleihungen an Nachwuchswissenschaftler/-innen und anschließender Feier im Innenhof statt.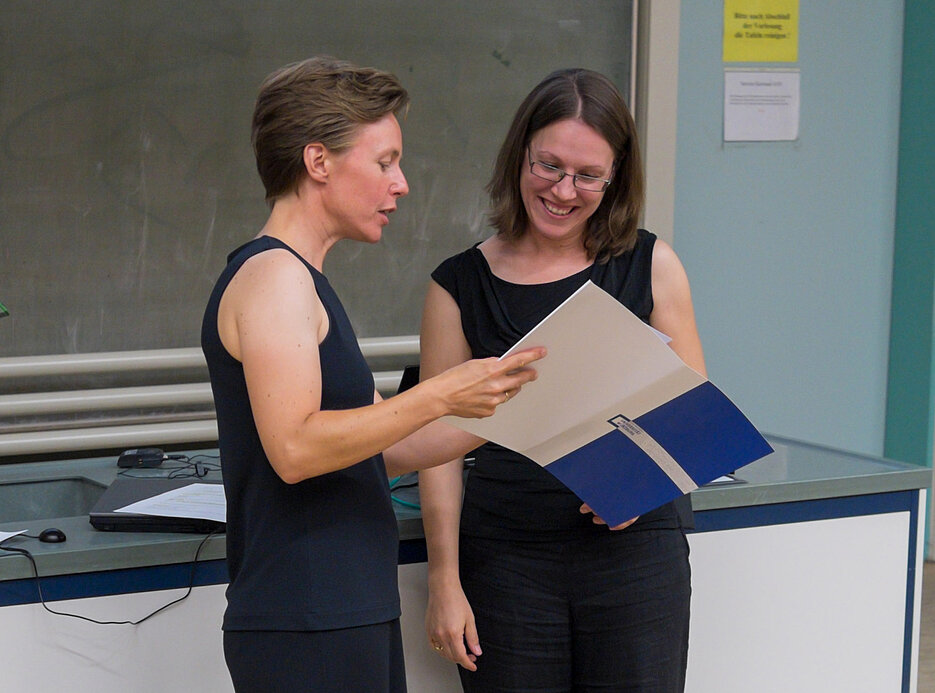 Marcella Boveri-Preis für Frau PD Dr. Vera Kozjak-Pavlovic
In diesem Jahr wurde der Biocenter Science Award an zwei herausragende Nachwuchswissenschaftler/-innen verliehen:
Frau Dr. Emily Martin erhielt den Preis für Ihre Arbeit zu "Agricultural landscapes, biodiversity and natural pest control: how can they benefit sustainable crop production?", Herr Dr. Matthias Schlichting für seine Arbeit zu "Several light input pathways modulate the circadian clock of Drosophila melanogaster".
Der Marcella Boveri-Preis, speziell für exzellente Wissenschaftlerinnen, wurde an Frau PD Dr. Vera Kozjak-Pavlovic vergeben.
Umrahmt wurde die Preisverleihung von der Antrittsvorlesung von Frau Prof. Ricarda Scheiner zum Thema "Mechanismen der sozialen Organisation im Bienenstaat" und dem Festvortrag von Prof. Jürgen Tautz, der über "HOBOS - ein neuer Zugang in die Welt der Honigbiene" berichtete.
Anschließend wurde im Innenhof des Biozentrums gefeiert. Der Dank der Teilnehmer geht an die vielen Helfer/-innen und an Herrn Vonend, der für die musikalische Begleitung des gelungenen Festes sorgte.
Additional images