Zweifacher Young Investigator Award der International Society for Neuroethology
09/10/2020
Dr. Pauline Fleischmann und Dr. Jerome Beetz wurden jeweils mit dem Young Investigator Award 2020 der International Society for Neuroethology ausgezeichnet.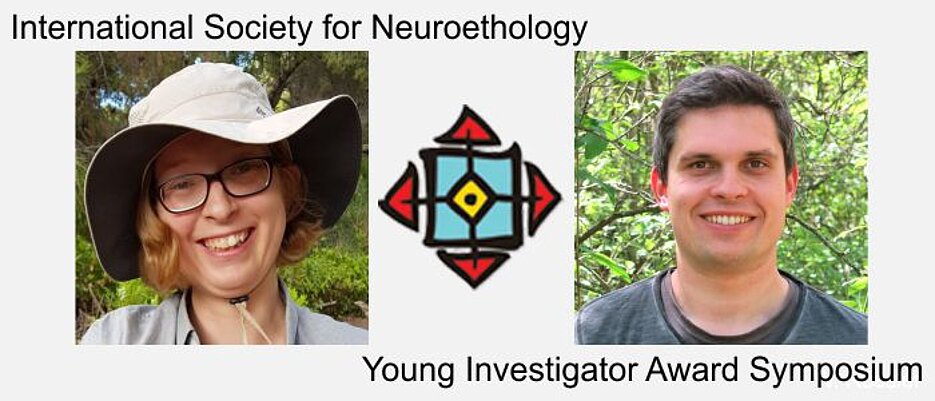 ISN Young Investigator Award 2020 für Dr. Pauline Fleischmann und Dr. Jerome Beetz
Mit dem Young Investigator Award zeichnet die International Society for Neuroethology jährlich vier Nachwuchs Wissenchaftler*innen in der Doktoranden bzw. frühen PostDoc Phase aus, welche mit herausragenden Leistungen einen signifikaten Beitrag zum Feld der Neuroethologie erbracht haben. Durch das Preisgeld von 1200,- USD wird den Preisträgern die Teilnahme am nächsten International Congress of Neuroethology ermöglicht. Der Lehrstuhl für Verhaltensphysiologie und Soziobiologie gratuliert Herrn Dr. Jerome Beetz (AG el Jundi) und Frau Dr. Pauline Fleischnmann (AG Rössler) herzlich zu dieser Auszeichnung.
Die vier Preisträger Angie Salles (Johns Hopkins University, USA), Jerome Beetz, Pauline Fleischmann (beide Universität Würzburg) und Rickesh Patel (University of Maryland, USA) werden im Rahmen eines Online Symposiums am 10. November 2020 um 17 Uhr ihre aktuelle Forschung vorstellen. Alle Interessierten sind herzlichen eingeladen und können sich auf der Webseite des ISN Young Investigator Symposium für das Zoom Meeting registrieren.