History of the Comoé Research Station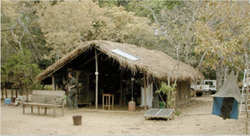 In 1990 a first research camp was realized with substantial funding provided by the Volkswagen Stiftung, the University of Wuerzburg and the respective Ministry. The camp became quickly well known and the high occupancy rate plus the increasing demand made the expansion and transformation into a permanent station highly desirable. Many bureaucratic hurdles had to be overcome until the means provided by the Fritz Thyssen Foundation could be utilized. Construction started in 2000 and in early 2002 all guesthouses and other buildings apart from the lab were finished so that we could move from the camp to the new station.
The outbreak of the crisis, in September 2002, resulted in the loss of the entire removable and demountable equipment. The buildings profited from a solid construction and did not get strongly damaged during the period of social unrest. Despite the difficult times we were always well informed and could visit the station during the last third of the crisis.
Due to the positive development in the country from 2010/11 onwards the rehabilitation of the station started in 2012 with remaining funds from the Fritz Thyssen Foundation and University of Würzburg. With the construction of the solar plant, in December 2014, the rehabilitation was finished. The station has now achieved its full working capacity.