Preise für exzellente Forschung
07/30/2019
Vier Nachwuchswissenschaftlerinnen und Nachwuchswissenschaftler wurden im Biozentrum ausgezeichnet. Die Preise gingen an Apoorva Baluapuri, Tim Breitenbach, Emily Poppenburg Martin und Sarah Schuster.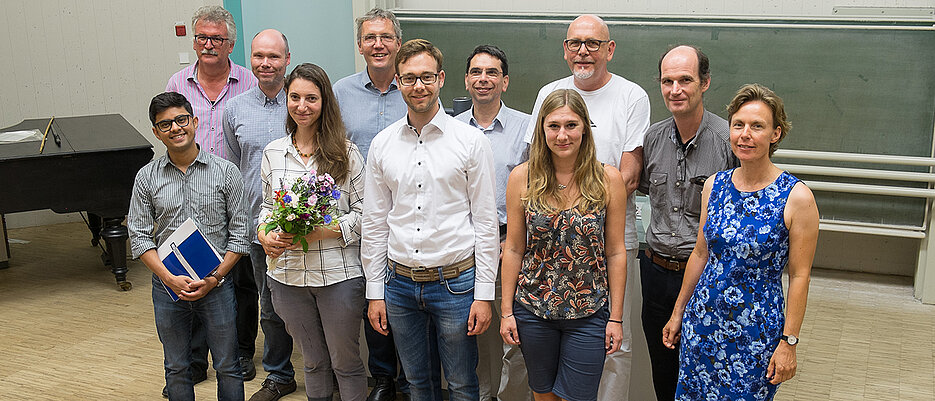 Festredner Josef Settele (hinten links) mit Apoorva Baluapuri, Elmar Wolf, Emily Poppenburg Martin, Ingolf Steffan-Dewenter, Tim Breitenbach, Thomas Dandekar, Sarah Schuster, Markus Engstler, Utz Fischer und Ricarda Scheiner (v.l.). (Image: Biozentrum / Universität Würzburg)
Im Biozentrum der Universität Würzburg forschen Wissenschaftlerinnen und Wissenschaftler aus drei Fakultäten interdisziplinär im Bereich der Lebenswissenschaften. Beim Sommerfest des Zentrums wurden am 24. Juli 2019 Preise für besondere Leistungen des Nachwuchses vergeben.
Drei Science Awards
Für herausragende Forscherinnen und Forscher in einer frühen Karrierephase (Promotion oder frühe Postdoc-Phase) vergibt das Biozentrum jedes Jahr bis zu drei Science Awards, die mit jeweils 250 Euro dotiert sind. Die Geehrten des Jahres 2019:
Apoorva Baluapura aus der Arbeitsgruppe von Dr. Elmar Wolf hat im Lauf seiner Doktorarbeit am Lehrstuhl für Biochemie und Molekularbiologie neue Methoden etabliert, mit denen er bislang ungeklärte Details zur Funktion des Krebsgens Myc zeigen konnte. Die Ergebnisse hat er als Erstautor in der Zeitschrift Molecular Cell publiziert.
Dr. Tim Breitenbach hat am Lehrstuhl für Bioinformatik unter Einsatz von Differentialgleichungen ein allgemeines mathematisches Werkzeug für die Netzwerkmodellierung entwickelt. Das ermöglicht zahlreiche Anwendungen, unter anderem in der Pharmakologie. Seine Ergebnisse sind im Journal Plos Computational Biology im Druck; Folgepublikationen sind zu erwarten.
Sarah Schuster erforscht am Lehrstuhl für Zell- und Entwicklungsbiologe die Erreger der Schlafkrankheit. Mit anspruchsvollen Mikroskopie-Techniken gelang es ihr, eine seit Jahren etablierte Lehrmeinung über die Wechselwirkung der Erreger mit ihrem Zwischenwirt, der Tsetse-Fliege, zu revidieren. Erste Ergebnisse sind in eLife veröffentlicht; ein weiteres Manuskript ist eingereicht.
Marcella-Boveri-Forschungspreis
Den Marcella-Boveri-Forschungspreis vergibt das Biozentrum in der Regel alle zwei Jahre. Er geht an herausragende Wissenschaftlerinnen in einer fortgeschrittenen Karrierephase (Habilitation). Der Preis ist mit 5.000 Euro dotiert; das Geld muss für Forschungszwecke verwendet werden.
2019 geht der Preis an Dr. Emily Poppenburg Martin vom Lehrstuhl für Tierökologie und Tropenbiologie, die im Bereich Agrarökologie habilitiert. Die Preisträgerin erforscht den Zusammenhang zwischen landwirtschaftlicher Landnutzung und Biodiversität der Insekten, insbesondere im Hinblick auf Schädlingskontrolle und Bestäubung.
Dr. Poppenburg Martin hat zahlreiche Publikationen in angesehenen Fachzeitschriften veröffentlicht und mehrere Drittmittelprojekte eingeworben. Sie ist Mitglied im Beirat für Biodiversität des Bayerischen Staatsministeriums für Umwelt und Verbraucherschutz und beteiligt sich im Biozentrum stark an der Lehre.
Festvortrag von Josef Settele
Den Festvortrag – im Rahmen des Biozentrums-Kolloquiums und der Physico-Medica-Vorlesungsreihe – hielt Professor Josef Settele vom Helmholtz-Zentrum für Umweltforschung in Leipzig. Er gab Einblicke in den "Maschinenraum" der zwischenstaatlichen Wissenschaftspolitik. Sein Vortragstitel: "The Global Assessment of IPBES – process and key messages". Die Organisation IPBES (Intergovernmental Science-Policy Platform on Biodiversity and Ecosystem Services) wird von mehr als 130 Nationen getragen.