Rare Moth Discovered
08/10/2020
An oak forest in Lower Franconia has caused a small sensation in zoology: A moth was discovered there that was considered extinct.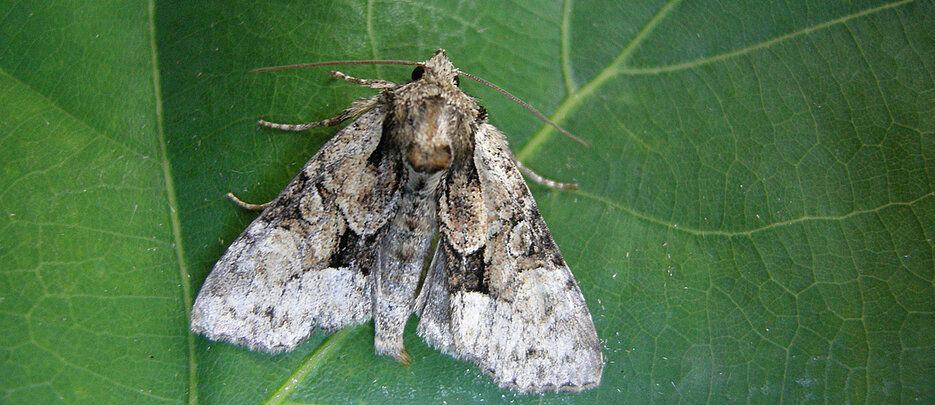 A specimen of Pabulatrix pabulatricula, which until recently was considered extinct. (Image: Julian Bittermann / Universität Würzburg)
Butterfly expert Hermann Hacker from the Ecological Station of Julius-Maximilians-Universität Würzburg (JMU) was amazed. Among the insects that PhD student Sophia Hochrein had captured at night in oak forests around the town Kitzingen was a treasure: a moth that has been considered extinct in Central Europe for decades and which is hardly ever found anywhere else in the world, the Union Rustic (Pabulatrix pabulatricula).
This species is one of the great rarities of the german moth fauna, explains Hermann Hacker. It lives in light, old oak woods with large populations of evergreen, its caterpillars eat only moor grass. This is where the butterfly gets its name.
According to the JMU zoologist, Pabulatrix is one of a number of remarkable species that disappeared from Central European forests 100 to 150 years ago, although their natural habitats still exist – apparently unchanged. Prudent forest care and management is particularly important for the conservation and promotion of species that are very sensitive to habitat changes.
Several individuals found at once
The first surprising find of a Pabulatrix specimen dates back to July 2019, but in the meantime, JMU experts have found several specimens of the rare butterfly during targeted searches in summer 2020.
They succeeded in doing so as part of a major research project conducted by the JMU and the Technical University of Munich together with the Bavarian State Institute of Forestry and Forest Management. The project is investigating the mass reproduction of sponge moths in Lower and Middle Franconia.
Re-emergence is an absolute exception
How and why Pabulatrix pabulatricula was able to survive in a wooded area near the town Wiesentheid still needs to be investigated. It is known, however, that species can survive for decades below the detection threshold and then reappear unexpectedly.
According to Hacker, this is an absolute exception, because every species needs an area with a certain minimum size, which in turn can guarantee a minimum population size. If the area falls below this minimum size, the species can quickly disappear due to unfavourable events such as drought or high temperatures.
Prudent and natural forest management
Forestry manager Christoph Riegert from the Arnstein forestry operation and his colleague Klaus Behr from the Department of Food, Agriculture and Forestry in Kitzingen, are enthusiastic about the find. "Once again we see what valuable forests are being looked after by the Bavarian State Forests," says Riegert. "Thanks to prudent and near-natural forest management, we are also preserving the habitat of rare species". Klaus Behr hopes for further occurrences in similarly structured private and corporate forests in the surrounding area.
Contact persons
On the species: Hermann Hacker, Ecological Station of the University of Würzburg, Fabrikschleichach, hermann-heinrich.hacker@t-online.de
About the project: Prof. Dr. Jörg Müller, Ecological Station of the University of Würzburg, Fabrikschleichach, T +49 931 31-83378, joerg.mueller@uni-wuerzburg.de