Svenja Meierjohann receives prize for cancer research
03/27/2018
Biologist Svenja Meierjohann has been awarded this year's Zonta Prize for her outstanding work in the field of cancer research.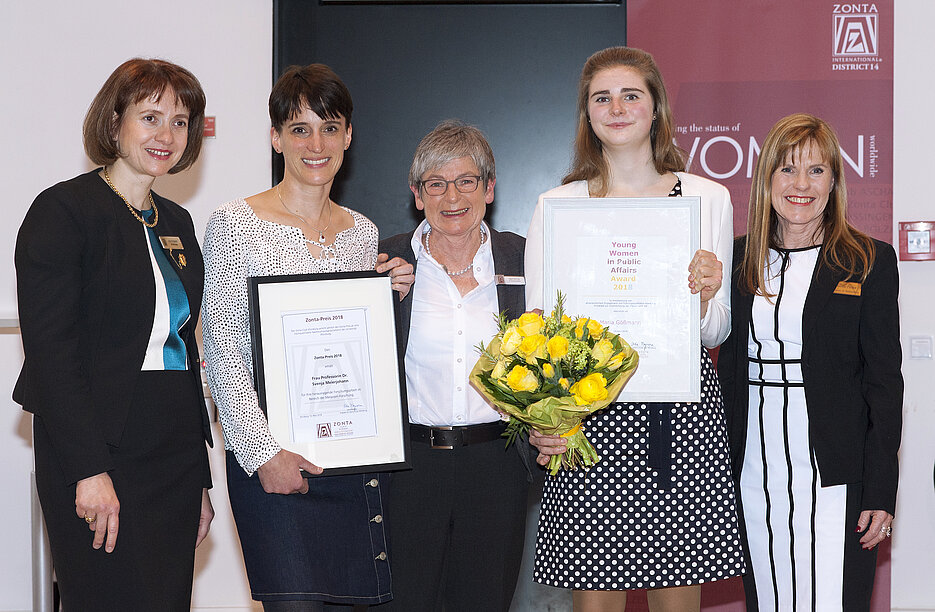 From left to right: Uta Mapara (President Zonta Club), Svenja Meierjohann, Ingrid Schnug (President Zonta Electra), Maria Gößmann (YWPA Awardee), Yvonne Pechar (Zonta Electra) Image: Angie Wolf
Research on melanoma
Melanoma is one the deadliest forms of skin cancer; the lifetime risk for developing melanoma in Europe and Northern America is between 1:75 and 1:100. Once metastasized, the chances of healing are rather low. A better understanding of melanoma biology is therefore indispensable to be able to hit the tumor at its sensitive nodes. Targeted therapy with BRAF/MEK- or checkpoint inhibitors are nowadays routinely applied in the clinic, but therapy success is limited by the development of resistance and tumor relapse. Resistance development is promoted by genetic heterogeneity and transcriptional tumor plasticity. Svenja Meierjohann's research group is therefore working on the mechanisms underlying plasticity and on alternative targets in melanoma.
In particular, the focus of her work covers the following topics:
1) Tumor plasticity, tumor heterogeneity and their influence on therapy response
Most melanoma oncogenes lead to the aberrant activation of the MAP kinase pathway. The research group is examining the relevance of MAPK signaling for pro-tumorigenic events and investigates cellular plasticity after inhibition of the RAF/MEK/MAPK pathway on transcriptional and genetic level. After identification of druggable targets, new drug combinations for therapy optimization are investigated in preclinical model systems.
2) Identification of novel drug targets
Melanomas are exposed to a number of exogenous and endogenous stress factors, such as UV radiation and high intracellular amounts of reactive oxygen species (ROS). To keep them in check, efficient countermeasures such as antioxidative processes and efficient DNA repair is required. Meierjohann's group uses different melanoma models to investigate the role of ROS and DNA repair in melanoma initiation and maintenance.
About the Person
Svenja Meierjohann has been W1 Professor of Tumor Biochemistry at the Chair of Physiological Chemistry (Biocenter, University of Würzburg) since 2016. In addition to research and teaching, the prizewinner is also active as a mentor in the newly launched "Mentoring med PEER Programme". Before she specialized on melanoma, infectious diseases were in the focus of her research: her PhD thesis on the glutathione metabolism of the malaria pathogen was done at the renowned Bernhard Nocht Institute for Tropical Medicine in Hamburg and at the Wellcome Centre for Anti-Infectives Research of the University of Dundee, Scotland. Meierjohann has already received awards elsewhere: After completing her studies, she went to the University of Stellenbosch, South Africa for a seven-month research fellowship. In 1999, she was awarded the Dr. Josef Schneider Prize of the University of Würzburg for her research into immune resistant tuberculosis germs in Cape Town's suburbs.
The Zonta Prize
The Zonta Club Würzburg awards Svenja Meierjohann as an outstanding researcher to support and encourage women on their scientific path. "These young, up-and-coming female scientific talents often continue their work shortly after or even on parental leave. This represents a special organizational challenge and remarkable stamina as well as extraordinary determination, to which the Zonta Club Würzburg would like to draw attention," says Zonta President Uta Mapara.
Contact
Prof. Dr. Svenja Meierjohann
Biocenter of the University of Würzburg
Physiological Chemistry
svenja.meierjohann@biozentrum.uni-wuerzburg.de
Tel. +49 - (0)931-31 81348