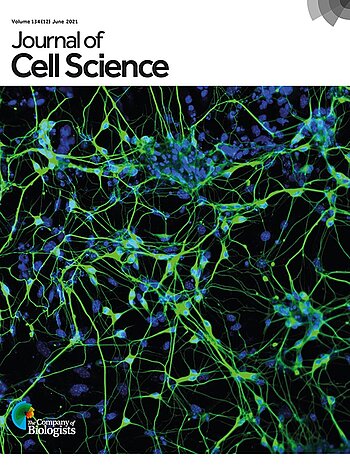 We analyse the function of histone demethylases, which belong to the KDM6 family and counteract the function of Polycomb group proteins. Our previous results show that inhibition of KDM6 in differentiating embryonic stem cells leads to a DNA damage response. We therefore hypothesise that KDM6 demethylases in addition to their function in the regulation of gene transcription may also be involved in the maintenance of genomic stability. More recent research on the function of the KDM6 paralog KDM6A shows that KDM6A is an important molecular player for the function of hematopoietic stem and progenitor cells. We have now extended our analyses to study the function of KDM6 demethylases in the adult heart in response to ischemic infarction.
A further key aspect of our work is the elucidation of epigenetic mechanisms during neural ESC differentiation. In this connection, we are analysing the role of microRNA-26 (miR-26) during mammalian neural development. Our results show that miR-26 is an important factor at the beginning of neural differentiation. Our current work aims at the identification of the molecular machinery that controls the maturation of miR-26 at the start of neural differentiation. We hope that this way we will get further insight in the molecular regulation at the beginning of neurogenesis.
---
Prof. Dr. Karen Bieback, University Hospital Heidelberg
Prof. Dr. Torsten Blunk, University Clinic Würzburg
Prof. Dr. Utz Fischer, University Würzburg
Prof. Dr. Hartmut Geiger, University Ulm
Prof. Dr. Ulrich Hofmann, UniversityClinic Würzburg
Was, N., Sauer, M., Fischer, U., Becker, M. lncRNA Malat1 and miR-26 cooperate in the regulation of neuronal progenitor cell proliferation and differentiation. RNA 2022 Oct 27;rna.079436.122. doi: 10.1261/rna.079436.122. Online ahead of print
Huppertz, S., Senger, K., Brown, A., Leins, H., Eiwen, K., Mulaw, M.A., Geiger, H.*, Becker, M*. KDM6A, a histone demethylase, regulates stress hematopoiesis and early B-cell differentation. Exp Hematol. 2021 Jul; 99:32-43.e13. doi: 10.1016/j.exphem.2021.06.001. Epub 2021 Jun 12.
Sauer, M., Was, N., Ziegenhals, T., Wang, X., Hafner, M., Becker, M.*, Fischer, U*. The miR-26 family regulates neural differentiation-associated microRNAs and mRNAs by directly targeting REST. J Cell Sci. 2021 Jun 15;134(12):jcs257535. doi: 10.1242/jcs.257535. Epub 2021 Jun 21.
Hofstetter, C., Kampka, J., Huppertz, S.,Weber, H., Schlosser, A., Müller, A.M., Becker, M. (2016) Inhibition of KDM6 activity during murine ES cell differentiation induces DNA damage. J Cell Sci: doi: 10.1242 /jcs. 175174

Zdzieblo, D., Li, X., Lin, Q., Zenke, M., Illich, D.J., Becker, M. and Müller, A.M. (2014) Pcgf6, a polycomb group protein, regulates mesodermal lineage differentiation in murine ES cells and functions in iPS reprogramming. Stem Cells 32(12):3112-25. doi: 10.1002/stem.1826

Sienerth, A.R., Scheuermann, C., Galmiche, A., Rapp, U.R., and Becker, M. (2011) Polycomb group protein Bmi1 negatively regulates IL-10 expression in activated macrophages. Immunol. Cell Biol. 89(7):812-6

Becker, M., Korn, C., Sienerth A.R., Voswinckel, R., Luetkenhaus K., and Rapp U.R. (2009) Polycomb group protein Bmi-1 is required for growth of RAF driven non-small-cell lung cancer. PLoS One 4(1): e4230

Qiu, Y., Zhao, Y., Becker, M., John, S., Parekh, B.S., Huang, S., Hendrawanto, A., Martinez, E.D., Chen, Y., Lu, H., Adkins , N. L., Stavreva, D.A.,Wiench, M., Georgel, P.T., Schiltz R.L. and Hager, G.L. (2006) HDAC1 acetylation is linked to progressive modulation of steroid receptor induced gene transcription Mol. Cell 22(5): 669-79

Becker, M., Baumann C., John, S., Walker, D. A., Vigneron, M., McNally, J., and Hager G.L. (2002) Dynamic behavior of transcription factors on a natural promoter in living cells. EMBO Reports 3: 1188-1194

Hager, G.L., Elbi, C. and Becker, M. (2002) Protein dynamics in the nuclear compartment . Current Opinion in Genetics and Development 12: 137-141 (Review)

Sheldon, L.A., Becker, M. and Smith, C.L. (2001) Steroid hormone receptor mediated histone deacetylation and transcription at the mouse mammary tumor virus promoter. J. Biol. Chem. 276: 32423-32426

Becker, M., Martin, E., Schneikert J., Krug, HF. and Cato A. C. (2000) Cytoplasmic localization and the choice of ligand determine aggregate formation by androgen receptor with amplified polyglutamine stretch. J. Cell Biol. 149: 255-262
---
Groupleader PD Dr. Matthias Becker