Lecturers: Ingolf Steffan-Dewenter, Jochen Krauß, Peter Biedermann, Andrea Holzschuh, Marcell Peters, Brigitte Fiala, Emily Poppenborg Martin, Alice Claßen, Alexander Keller
Aim: The students will acquire deep knowledge of ecological theories and up-to-date research issues in field of Animal Ecology. They will be qualified to interpret scientific work and apply the acquired knowledge to the solution of current environmental risks. The students will be qualified to recognize tropical habitats at their exceptional positions at biosphere and will be able to explain their importance to our ecosystem. They will be competent to the consequences of interventions in tropical systems and are capable of evaluate associated conservation related questions. They will also gain detailed knowledge of a wide range topics of biological characteristics and structural properties of tropics. In the seminar, the students will obtain skills to investigate, present, and discuss up-to-date publications in deep thematic areas of tropical biology.
Animal Ecology (Animal Ecology and Tropical Biology)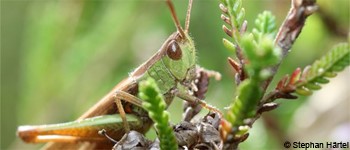 (only in winter semester)
Ingolf Steffan-Dewenter, Jochen Krauß, Andrea Holzschuh, Marcell Peters, Emily Poppenborg Martin, Brigitte Fiala, Alexander Keller
This module consists of lecture and seminar. In the lecture, an overview of the theoretical foundations and current issues in Animal Ecology will be given. Topics focus on biodiversity and ecosystem functions, multi-trophic interactions and food nets, Evolutionary Ecology, Chemical Ecology, Tropical Ecology, Agricultural Ecology, and global change. In the seminar, recent scientific publications within the topics mentioned above will be presented and discussed. It can be chosen as B-version under "additional courses" for 5 ECTS (only lecture no seminar).
Tropical Biology (Animal Ecology and Tropical Biology 2)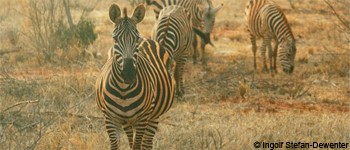 (only in summer semester)
Brigitte Fiala, Ingolf Steffan-Dewenter, Marcell Peters, Alice Claßen
The module deals with structure and biology of tropical habitats and of tropical communities. It consists of a lecture and a seminar. The lecture has a focus on the global importance of tropical systems, e.g. in regard to biodiversity, scientific theories, ecosystem goods and ecosystem functions such as the dynamics of the biosphere. Main characteristics of the tropics are compared to temperate zones. Subjects are e.g., diversity, habitats, climate, evolution, characteristics of tropical organisms, complex biotic interactions (mutualisms, herbivory and predation), ecosystem services pollination and seed dispersal, as well as threats to tropical systems (land use change, climate change, overexploitation) and conservation issues. The seminar allows in-depth discussion of (additional) current topics concerning tropical biology. The participants will present new papers complemented by own literature research and have the opportunity to practise their oral performance.
Required examinations: written examination with grades (one hour) (einstündige benotete Klausur) and oral presentation in the seminar (without grades)