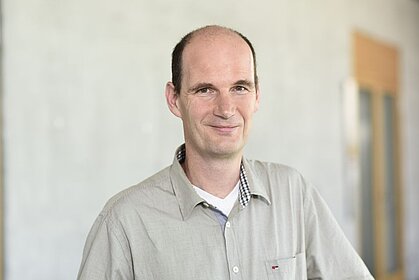 Curriculum vitae
Name

Prof. Dr. Utz Fischer

Position

Professor and Chairman

Affiliation

Chair of Biochemistry, Theodor-Boveri-Institute at the Biocentre
University of Würzburg
Am Hubland
97074 Würzburg
Phone +49 931 - 31 84029

utz.fischer@biozentrum.uni-wuerzburg.de

Born

12.10.1964

Career

1983-1988

Studies in Biochemistry at the Free University of Berlin, Germany, Diploma degree

1989-1992

Dissertation at the Philipps-University Marburg in the group of Prof. R. Lührmann

1992-1995

Post-Doc, Institute of Molecular Biology and Tumor Research, University of Marburg, Germany

1995-1997

AIDS Scholar at the HHMI, University of Pennsylvania, Philadelphia (PA, USA)

1997-2003

Group leader at the MPI of Biochemistry, Martinsried, Germany

since 2003

Professor and Chair of Biochemistry, University of Würzburg, Germany

2008-2009

Speaker of the Biocentre/Theodor-Boveri-Institute, University of Würzburg, Germany

Research Fields

Structure and Function of macromolecular machines

RNA-metabolism and neuronal diseases

Professional Activities

Since 2007: Speaker of the DFG-Forschergruppe FOR855 "Cytoplasmic regulation of gene expression"

Awards

1989: Dissertation award of Hoechst Industries
1993: AIDS Scholar of the DKFZ (Heidelberg)
1993: Falcon Research Award of the German Society of Cell Biology
1998: Rhone-Poulenc Rorer Research Award
1999: Gerhard Hess Award of the DFG
Publications
Key publications:
The Ribosome Cooperates with the Assembly Chaperone pICln to Initiate Formation of snRNPs.
Paknia E, Chari A, Stark H, Fischer U.
Cell Reports 16(12):3103-3112 (2016)
Reconstitution of the human U snRNP assembly machinery reveals stepwise Sm protein organization
Neuenkrichen, N., Englbrecht, C., Ohmer, J., Ziegenhals, T., Chari, A., and Fischer, U.
EMBO Journal 34(14):1925-41 (2015)
Structural Basis of Assembly Chaperone- Mediated snRNP Formation
Grimm C, Chari A, Pelz J, Kuper J, Kisker C, Diederichs K, Stark H, Schindelin H, Fischer U
Molecular Cell 49(4):692-703 (2013)
Intronic miR-26b controls neuronal differentiation by repressing its host transcript, ctdsp2
Dill H, Linder B, Fehr A, Fischer U
Genes & Development 26(1):25-30 (2012)
An assembly chaperone collaborates with the SMN complex to generate spliceosomal SnRNPs
Chari A, Golas M, Neuenkirchen N, Klingenhäger M, Sander B, Englbrecht C, Sickmann A, Stark H, Fischer U
Cell 135:497-509 (2008)
Reduced RNP assembly causes motor axon degeneration in an animal model for spinal muscular atrophy
Winkler C, Eggert C, Gradl D, Meister G, Giegerich M, Wedlich D, Fischer U
Genes & Development 19:2320-2330 (2005)
A multiprotein complex mediates the ATP-dependent assembly of spliceosomal U snRNPs
Meister G, Bühler D, Pillai R, Lottspeich F, Fischer U
Nature Cell Biology 3:945-949 (2001)
The SMN-SIP1 complex has an essential role in spliceosomal U snRNP biogenesis
Fischer U, Lui Q, Dreyfuss G
Cell 90:1023-1029 (1997)
The HIV-1 Rev activation domain is a nuclear export signal that accesses an export pathway used by specific cellular RNAs
Fischer U, Huber J, Boelens W, Mattaj IW, Lührmann R
Cell 82, 475-483(1995)
Fischer, U. and Lührmann, R.
An essential signalling role for the m3G cap in the transport of U1 snRNP to the nucleus.
Science 249: 786-790 (1990)
Key reviews:
Chari, A. und Fischer, U.
Cellular strategies for the assembly of molecular machines.
Trends in Biochemical Sciences (TIBS) 35(12):676-83 (2010)
Gehring N, Wahle E, Fischer U.
Decipering the mRNP code: RNA-bound determinants of post-transcriptional gene regulation.
Trends in Biochemical Sciences (TIBS), DOI:10.1016/tibs.2017.02.004 (2017)
For a complete list please click here.