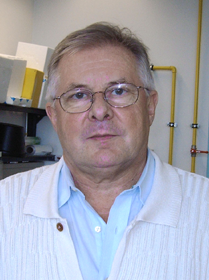 Curriculum vitae
Name

Prof. Dr. Aladár Szalay

Position

Professor

Affiliation

Chair of Biochemistry, Theodor-Boveri-Institute at the Biocentre
University of Würzburg
Am Hubland
97074 Würzburg
Phone +49 931 - 31 84010

Career

1966

M.S. Biochemistry, Institute of Biochemistry, Martin Luther University, Halle/Saale, Germany

1971

Ph.D. Biochemistry, January 1971, Institute of Biochemistry, Martin Luther University, Halle/Saale, Germany

1972-1973

Research Scientist, Biological Res. Center Hungarian Academy of Sciences Szeged, Hungary

1973-1975

Gosney Research Fellow, California Institute of Technology Pasadena, CA, USA

1975-1977

Research Associate, California Institute of Technology Pasadena, CA, USA

1962-1977

Adjunct Professor, Division of Biological Sciences, Cornell University, Ithaca, New York, USA

1977-1988
Associate Biochemistry Group Leader in Molecular Biology, Boyce Thompson Institute, Cornell University Ithaca, NY, USA
1988-1995
Endowed Chair Professor, University of Alberta Edmonton, Alberta, Canada
1993-1998
Professor of Microbiology and Molecular Genetics, Director of Molecular Biology and Gene Therapy Center, School of Medicine, Loma Linda University, Loma Linda, CA, USA
1998-2003
University Professor of Biochemistry, School of Medicine Loma Linda University, Loma Linda, CA, USA
since 2001
President & CEO, Chairman of the Board of Directors, Founder Genelux Corporation, San Diego, CA, USA
since 2003
University Professor, Virchow Center for Experimental Biomedicine, Institute for Biochemistry and Institute for Molecular Infection Biology, University of Würzburg, Germany

since 2009

Professor, Department of Radiation Oncology, Rebecca and John Moores Comprehensive Cancer Center, University of California, San Diego, CA, USA

Research Fields

luciferase and fluorescent proteins
tumor colonizing microorganisms for diagnosis and therapy

Selected Awards

1960-1972: Fellowship of Hungary (Distinguished Undergraduate Fellowship of Hungary)
1962-1966: Foreign Undergraduate Fellowship, Ministry of Culture of Hungary
1966-1971: Graduate Student Fellowship in Biochemistry, Awarded by the Hungarian National Academy of Sciences
1973-1975: Gosney Award, California Institute of Technology, Pasadena, CA
1985: Theobald Smith medal awarded by Squibb, Merck Corp. and Princeton University
1985: Alexander von Humboldt Scholar Award, Max Planck Institut, Cologne, Germany
1989: Award of the Economic Council of Advanced Technology, Edmonton, Canada
1993: Wilhelm Exner Award – Vienna, Austria (Medal for Excellence in Science)
1999: Alexander von Humboldt Prize, Bonn, Germany
2002-2004: Vice President of International Society for Bioluminescence and Chemiluminescence
2004-2006: President of International Society for Bioluminescence and Chemiluminescence
---


Selected Publications
Haddad D, Chen NG, Zhang Q, Chen CH, Yu YA, Gonzalez L, Carpenter SG, Carson J, Au J, Mittra A, Gonen M, Zanzonico PB, Fong Y, Szalay AA (2011): Insertion of the human sodium iodide symporter to facilitate deep tissue imaging does not alter oncolytic or replication capability of a novel vaccinia virus. J Transl Med 9: 36.
Frentzen A, Yu YA, Chen N, Zhang Q, Weibel S, Raab V and Szalay AA (2009): Anti-VEGF single chain antibody GLAF-1 encoded by oncolytic vaccinia virus significantly enhances therapy in colonized tumor xenografts. PNAS 106: 12915-20.
Brader P, Stritzker J, Riedl CC, Zanzonico P, Cai S, Burnazi EM, Ghani ER, Hricak H, Szalay AA, Fong Y and Blasberg R (2008): Escherichia coli Nissle 1917 facilitates tumor detection by positron emission tomography and optical imaging. Clin Cancer Res 14(8): 2295-302.
Weibel S, Stritzker J, Eck M, Goebel W and Szalay AA (2008): Colonization of experimental murine breast tumours by Escherichia coli K-12 significantly alters the tumour microenvironment. Cell Microbiol 10(6): 1235-48.
Yu YA, Shabahang S, Timiryasova TM, Zhang Q, Beltz R, Gentschev I, Goebel W and Szalay AA (2004): Visualization of tumors and metastases in live animals with bacteria and vaccinia virus encoding light-emitting proteins. Nat Biotechnol 22(3): 313-20.
Dietrich G, Bubert A, Gentschev I, Sokolovic Z, Simm A, Catic A, Kaufmann SH, Hess J, Szalay AA and Goebel W (1998): Delivery of antigen-encoding plasmid DNA into the cytosol of macrophages by attenuated suicide Listeria monocytogenes. Nat Biotechnol 16(2): 181-5.
Escher A, O'Kane DJ, Lee J and Szalay AA (1989): Bacterial luciferase alpha beta fusion protein is fully active as a monomer and highly sensitive in vivo to elevated temperature. Proc Natl Acad Sci USA 86(17): 6528-32.