Information and Preliminary Program
Date and Venue
The summer school will take place from September 23-27th, 2019, at the Center for Computational and Theoretical Biology in Würzburg, Germany.
Program (click to enlarge)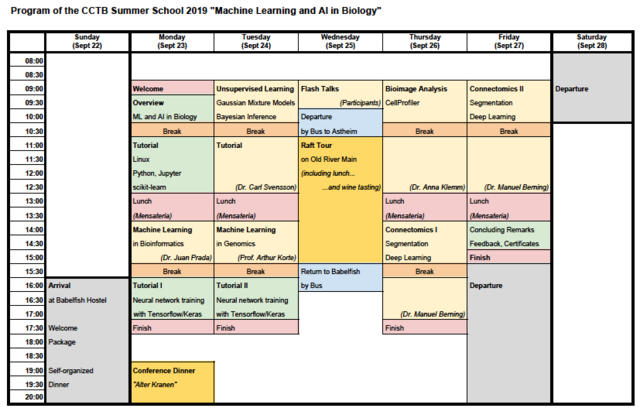 Infrastructure
For the practical lessons, we will work in the digital teaching laboratory of the CCTB and use the high-performance teaching cloud of the Biology department that includes 2 Tesla P100 GPUs. Students can either use our Raspberry Pi thin clients or bring their own laptop to access the cloud instances.
Social Program
We will do a raft tour on the romantic "Altmain", one of Germany's oldest transport routes, including a wine tasting. Furthermore, there will be a conference dinner in a traditional Franconian restaurant in the old town of Würzburg.
Costs
The participation fee is 400 € and includes accommodation in the Babelfish hostel (4-6 people per room) for 5 nights, all lunches and coffee breaks, the raft tour and conference dinner, and public transport within the city.
If you decide to book your own accommodation at your own cost, the participation fee is reduced to 290 €.
Instructors & Speakers
University of Würzburg:
Philip Kollmannsberger
Sabine Fischer
Juan Prada Salcedo
Arthur Korte
Invited Speakers:
Carl-Magnus Svensson (Leibniz-HKI, Jena)
Anna Klemm (SciLifeLab, Uppsala University)
Manuel Berning (MPI Frankfurt / SAP AG)