Prof. Dr. Elmar Wolf
Lehrstuhl für Biochemie und Molekularbiologie
Biozentrum
Am Hubland
97074 Würzburg
Raum B 353
Tel: 0931 31-83259
Fax: 0931 31-84113
elmar.wolf@biozentrum.uni-wuerzburg.de
Emmy Noether group - Cancer Systems Biology
November 2022
Ashwin won the poster competition of the EUREKA! Symposium 2022 (organized by GSLS)! Congratulations!
October 2022
We have a new lab member - welcome Desiree!
September 2022
We have two new starts at the lab!!
Mathias Diebold joins us as a postdoc and Belinda continues with us for her master's thesis!
June 2022
"You did it! Congratulations to Jessica for a great defense of her PhD! We whish you all the best!"
"Another great team effort with Knapp lab: our next PROTAC paper is online now! Well done, Lorenz and Jelena!"
May 2022
Well done Bikash for winning the best poster award at the GRK2243's Ubiquitin Symposium 2022!!

April 2022
Congratulations to our collaborators AGRiedel for their latest paper out in Cancer Immunology Research!

Welcome to our new PhD student - Juliane Müller!

January 2022
Many congratulations to the lab of Prof Dr Ulrich Keller for their latest paper out now in Nature Communications. It was great to collaborate with them and we are looking forward to more interactions in the future!

We have three new lab members - Marie, Katharina and Nurbanu! Welcome to the Wolf Lab

Archive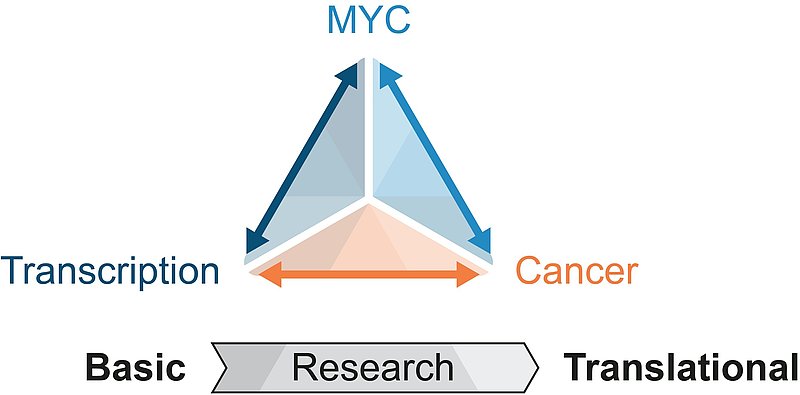 In ageing Western societies tumors are becoming the most relevant medical problem. A key characteristic of tumors is deregulated signaling pathways that significantly alter the transcriptional profile of tumor cells. Proteins of the MYC family play a prominent role in this oncogenic reprogramming as transcription factors.

Our vision is to understand the transcriptional changes during carcinogenesis and, in particular, the oncogenic function of Myc to the extent that new pharmaceutical strategies for the fight against cancer can be developed on this basis. To this end, my research group uses genome- and proteome-wide methods to better understand the biology of tumors as well as genetic screens to find potential therapeutic targets of tumor cells. Together with our partners, we have recently developed substances that inhibit the function of Myc. In the next few years, we want to improve these molecules, of the PROTAC substance class, to such an extent that they can be clinically tested and applied.


Research topic 1: The oncogenic function of MYC

Research topic 2: Investigation of transcriptional elongation

Research topic 3: New pharmaceutical concepts in oncology
2021/2022
Otto C, Kastner C, Schmidt S, Uttinger K, Baluapuri A, Denk S, Rosenfeldt MT, Rosenwald A, Roehrig F, Ade CP, Schuelein-Voelk C, Diefenbacher ME, Germer CT, Wolf E, Eilers M, Wiegering A (2022) RNA polymerase I inhibition induces terminal differentiation, growth arrest and vulnerability to senolytics in colorectal cancer cells. Mol Oncol
Bozilovic J, Eing L, Berger BT, Adhikari B, Weckesser J, Berner NB, Wilhelm S, Kuster B, Wolf E*, Knapp S* (2022) Novel, highly potent PROTACs targeting AURORA-A kinase. Current Research in Chemical Biology 2, IF: N/A
Doffo J, Bamopoulos SA, Köse H, Orben F, Zang C, Pons M, den Dekker AT, Brouwer RWW, Baluapuri A, Habringer S, Reichert M, Illendula A, Krämer OH, Schick M, Wolf E, van IJcken WFJ, Esposito I, Keller U, Schneider G, Wirth M. NOXA expression drives synthetic lethality to RUNX1 inhibition in pancreatic cancer. PNAS. 2022, 119(9).
Riedel A, Helal M, Pedro L, Swietlik JJ, Shorthouse D, Schmitz W, Haas L, Young T, da Costa ASH, Davidson S, Bhandare P, Wolf E, Hall BA, Frezza C, Oskarsson T, Shields JD. Tumor-Derived Lactic Acid Modulates Activation and Metabolic Status of Draining Lymph Node Stroma. Cancer Immunol Res. 2022, 10(4):482-497

Schick M, Zhang L, Maurer S, Maurer HC, Isaakaidis K,Schneider L, Patra U, Schunck K, Rohleder E, Hofstetter J, Baluapuri A,Scherger AK, Slotta-Huspenina J, Hettler F, Weber J, Engleitner T, Maresch R,Slawska J, Lewis R, Istvanffy R, Habringer S, Steiger K, Baiker A, OostendorpRAJ, Miething C, Lenhof HP, Bassermann F, Chapuy B, Wirth M, Wolf E, Rad R, Müller S, Keller U (2022)Genetic alterations of the SUMO isopeptidase SENP6 drive lymphomagenesis andgenetic instability in diffuse large B-cell lymphoma. Nature Communications 13

Narain A, Bhandare P, Adhikari B, Backes S, Eilers M, Dolken L, Schlosser A, Erhard* F, Baluapuri* A, Wolf* E (2021) Targeted protein degradation reveals a direct role of SPT6 in RNAPII elongation and termination. Mol Cell 81: 3110-3127 e14 *corresponding authors
Dölle A, Adhikari B, Kramer A, Weckesser J, Berner N, Berger LM, Diebold M, Szewczyk MM, Barsyte-Lovejoy D, Arrowsmith CH, Gebel J, Lohr F, Dotsch V, Eilers M, Heinzlmeir S, Kuster B, Sotriffer C, Wolf* E, Knapp* S (2021) Design, Synthesis, and Evaluation of WD-Repeat-Containing Protein 5 (WDR5) Degraders. J Med Chem 64: 10682-10710 *corresponding authors
Adhikari* B, Narain A, Wolf* E (2021) Generation of auxin inducible degron (AID) knock-in cell lines for targeted protein degradation in mammalian cells. STAR Protoc 2: 100949 *corresponding authors
Papadopoulos D, Solvie D, Baluapuri A, Endres, T, Ha S., Herold S, Kalb J, Giansanti C, Schülein-Völk C, Ade CP, Schneider C, Gaballa A, Vos S, Fischer U, Dobbelstein M, Wolf E, Eilers M (2021) MYCN recruits the nuclear exosome complex to RNA polymerase II to prevent transcription‑replication conflicts. Mol Cell https://doi.org/10.1016/j.molcel.2021.11.002
Krenz B, Gebhardt-Wolf A, Ade CP, Gaballa A, Roehrig F, Vendelova E, Baluapuri A, Eilers U, Gallant P, D'Artista L, Wiegering A, Gasteiger G, Rosenfeldt MT, Bauer S, Zender L, Wolf E, Eilers M (2021) MYC- and MIZ1-Dependent Vesicular Transport of Double-Strand RNA Controls Immune Evasion in Pancreatic Ductal Adenocarcinoma. Cancer Res 81: 4242-4256
Endres T, Solvie D, Heidelberger JB, Andrioletti V, Baluapuri A, Ade CP, Muhar M, Eilers U, Vos SM, Cramer P, Zuber J, Beli P, Popov N, Wolf E, Gallant P, Eilers M (2021) Ubiquitylation of MYC couples transcription elongation with double-strand break repair at active promoters. Mol Cell 81: 830-844 e13
Sipol A, Hameister E, Xue B, Hofstetter J, Barenboim M, Ollinger R, Jain G, Prexler C, Rubio RA, Baldauf MC, Franchina DG, Petry A, Schmah J, Thiel U, Gorlach A, Cario G, Brenner D, Richter G, Grunewald TGP, Rad R, Wolf E, Ruland J, Sorensen PH, Burdach SEG (2021) MondoA Drives B-ALL Malignancy through Enhanced Adaptation to Metabolic Stress. Blood
Wolpaw AJ, Bayliss R, Buchel G, Dang CV, Eilers M, Gustafson WC, Hansen GH, Jura N, Knapp S, Lemmon MA, Levens D, Maris JM, Marmorstein R, Metallo SJ, Park JR, Penn LZ, Rape M, Roussel MF, Shokat KM, Tansey WP, Verba KA, Vos SM, Weiss WA, Wolf E, Mosse YP (2021) Drugging the "Undruggable" MYCN Oncogenic Transcription Factor: Overcoming Previous Obstacles to Impact Childhood Cancers. Cancer Res 81: 1627-1632
Hartmann O, Reissland M, Maier CR, Fischer T, Prieto-Garcia C, Baluapuri A, Schwarz J, Schmitz W, Garrido-Rodriguez M, Pahor N, Davies CC, Bassermann F, Orian A, Wolf E, Schulze A, Calzado MA, Rosenfeldt MT, Diefenbacher ME (2021) Implementation of CRISPR/Cas9 Genome Editing to Generate Murine Lung Cancer Models That Depict the Mutational Landscape of Human Disease. Front Cell Dev Biol 9: 641618