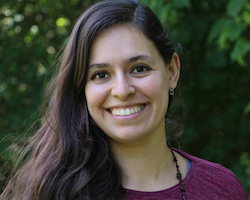 PhD student
Email: gemma.villagomez@uni-wuerzburg.de

Office: C015
Department of Animal Ecology and Tropical Biology
Biocenter
University of Würzburg
Am Hubland
97074 Würzburg
Germany
Stingless bees Biology
Tropical Biology
Biological rhythms
Chemical Ecology
Mathematical and Theoretical Biology
The main objective of my PhD is to understand species-specific differences in foraging patterns and resource intake of stingless bee colonies in a tropical ecosystem in Ecuador and Costa Rica. My specific objectives are:
1. Explore the species richness of floral sources visited (pollen and resin via DNA-metabarcoding) and resource intake (i.e. foraging activity, protein content of collected pollen, sugar concentration in collected nectar) of different stingless bee nests.
2. Explore species-specific nutritional preferences (protein and lipid content in pollen, sugar concentration in nectar), floral and resin sources visited by different stingless bees, as well as changes in bee-plant networks over the course of the day.
3. Explore preferences of stingless bees with regard to nectar chemistry using feeding choice and cafeteria experiments.
4. Improve a protocol to extract and quantify fatty acids in pollen samples.
Stingless bee resource collection and foraging activity
Science communication. Co-founder of "Deduci" (science communication and educational project). The project consists of 2 Facebook pages (@Deduci.info, @Ek.deduci) and 1 Instagram account (@ek.deduci) where diverse science content is posted in Spanish for non-academics.
02/2019 - present: PhD candidate Department of Animal Ecology and Tropical Biology, University of Würzburg.
09/2016 – 10/2018: Master of Science in Biology, University of Würzburg.
Master's Dissertation: "Effects of temperature and photoperiod on the seasonal timing of western honey bee colonies and two wild bulbous plants".
09/2010 – 09/2015: Bachelor in Biology, Universidad Nacional Autónoma de México (UNAM), México.
Bachelor's Dissertation: "Importancia de los heterodímeros PER:CRY y CLOCK:BMAL1 en la oscilación circadiana molecular: un acercamiento matemático". (Importance of the heterodimers PER:CRY and CLOCK:BMAL1 in the molecular circadian oscillation: a mathematical approach)
Villagómez GN, Spaethe J., Leonhardt SD. Nectar content preference of the stingless bee Trigona fulviventris (in preparation)
Villagómez GN, Keller A., Rasmussen C., Lozano P., Donoso D., Blüthgen N., Leonhardt SD. Differences in resource intake between high resin collectors stingless bees and low resin collectors. (in preparation)
Villagomez, GN, Nürnberger, F, Requier, F, Schiele, S, Steffan-Dewenter, I. (2021) Effects of temperature and photoperiod on the seasonal timing of Western honey bee colonies and an early spring flowering plant. Ecol Evol.; 11: 7834– 7849. https://doi.org/10.1002/ece3.7616