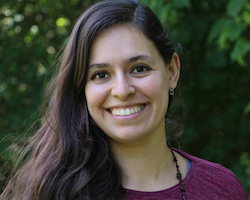 Gemma Nydia Villagómez Garduño
PhD student
Email: gemma.villagomez@uni-wuerzburg.de

Office: C015
Department of Animal Ecology and Tropical Biology
Biocenter
University of Würzburg
Am Hubland
97074 Würzburg
Germany
Stingless bees Biology
Tropical Biology
Biological rhythms
Chemical Ecology
Mathematical and Theoretical Biology
The objective of my PhD is to understand how habitat alterations affect the foraging patterns and resource intake of stingless bee colonies. Therefore, I explore site-specific and species-specific differences in resource intake of stingless bees along a disturbance gradient in a tropical ecosystem in Ecuador.
02/2019 - present: PhD candidate Department of Animal Ecology and Tropical Biology, University of Würzburg.
09/2016 – 10/2018: Master of Science in Biology, University of Würzburg.
Master's Dissertation: "Effects of temperature and photoperiod on the seasonal timing of western honey bee colonies and two wild bulbous plants".
09/2010 – 09/2015: Bachelor in Biology, Universidad Nacional Autónoma de México (UNAM), México.
Bachelor's Dissertation: "Importancia de los heterodímeros PER:CRY y CLOCK:BMAL1 en la oscilación circadiana molecular: un acercamiento matemático". (Importance of the heterodimers PER:CRY and CLOCK:BMAL1 in the molecular circadian oscillation: a mathematical approach)