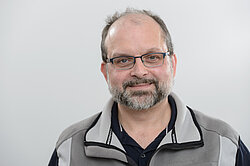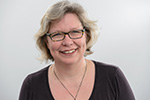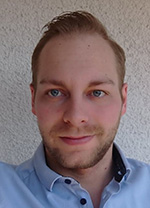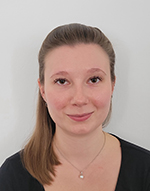 CURRICULUM VITAE
04/2021: Habilitation for Microbiology (Prof. Dr. Thomas Rudel)

Since 06/2010: Group leader at the University of Würzburg, Germany

2005-2010: Junior-Group leader at the Competence Center Functional Genomics (FunGene), Ernst Moritz Arndt University Greifswald, Germany

2000-2004: Postdoc at the Department of Biology, University of Pennsylvania, Philadelphia, USA (Prof. Dr. David S. Roos)

2000-2002: DFG Research Stipend

1999-2000: Researcher, Department for Cell biology and Applied Botany, Philipps-University Marburg, Germany

1999: PhD (Dr. rer. nat.); Department for Cell biology and Applied Botany, Philipps-University Marburg, Germany (Prof. Dr. Uwe-G. Maier)

1995: Diploma in Biology, University of Bayreuth, Germany
Lang JC, Seiß EA, Moldovan A, Müsken M, Sauerwein T, Fraunholz M, Müller AJ, Goldmann O, Medina E. A Photoconvertible Reporter System for Bacterial Metabolic Activity Reveals That Staphylococcus aureus Enters a Dormant-Like State to Persist within Macrophages. mBio. 2022 Sep 14:e0231622. doi: 10.1128/mbio.02316-22.
PLoS Pathog. 2021 Sep 2;17(9):e1009874.

doi: 10.1371/journal.ppat.1009874.



Intracellular Staphylococcus aureus employs the cysteine protease staphopain A to induce host cell death in epithelial cells.
Krones D, Rühling M, Becker KA, Kunz TC, Sehl C, Paprotka K, Gulbins E, Fraunholz M. Staphylococcus aureus α-Toxin Induces Acid Sphingomyelinase Release From a Human Endothelial Cell Line. Front Microbiol. 2021 Jul 29;12:694489. doi: 10.3389/fmicb.2021.694489.

Siegmund A, Afzal MA, Tetzlaff F, Keinhörster D, Gratani F, Paprotka K, Westermann M, Nietzsche S, Wolz C, Fraunholz M, A Hübner C, Löffler B, Tuchscherr L. Intracellular persistence of Staphylococcus aureus in endothelial cells is promoted by the absence of phenol-soluble modulins. Virulence. 2021 Dec;12(1):1186-1198. doi: 10.1080/21505594.2021.1910455.

Kunz TC, Rühling M, Moldovan A, Paprotka K, Kozjak-Pavlovic V, Rudel T, Fraunholz M. The Expandables: Cracking the Staphylococcal Cell Wall for Expansion Microscopy. Front Cell Infect Microbiol. 2021 Mar 16;11:644750. doi: 10.3389/fcimb.2021.644750.

Stelzner K, Winkler AC, Liang C, Boyny A, Ade CP, Dandekar T, Fraunholz MJ, Rudel T. Intracellular Staphylococcus aureus Perturbs the Host Cell Ca2+ Homeostasis To Promote Cell Death. mBio. 2020 Dec 15;11(6):e02250-20. doi: 10.1128/mBio.02250-20.
Groma M, Horst SA, Das S, Huettel B, Klepsch M, Rudel T, Medina E, Fraunholz M. 2020. Identification of a Novel LysR-Type Transcriptional Regulator in Staphylococcus aureus That Is Crucial for Secondary Tissue Colonization during Metastatic Bloodstream Infection. mBio 11:e01646-20. DOI: 10.1128/mBio.01646-20

Wagner F, Kunz TC, Chowdhury SR, Thiede B, Fraunholz M, Eger D, Kozjak-Pavlovic V. Armadillo repeat-containing protein 1 is a dual localization protein associated with mitochondrial intermembrane space bridging complex. PLoS One. 2019 Oct 23;14(10):e0218303. doi: 10.1371/journal.pone.0218303.


Moldovan A, Fraunholz MJ. In or out: Phagosomal escape of Staphylococcus aureus. Cell Microbiol. 2019 Mar;21(3):e12997. doi: 10.1111/cmi.12997

Horn J, Klepsch M, Manger M, Wolz C, Rudel T, Fraunholz M. The long non-coding RNA SSR42 controls Staphylococcus aureus α-toxin transcription in response to environmental stimuli. J Bacteriol. 2018 Aug 27. pii: JB.00252-18. doi: 10.1128/JB.00252-18.


Becker KA, Fahsel B, Kemper H, Mayeres J, Li C, Wilker B, Keitsch S, Soddemann M, Sehl C, Kohnen M, Edwards MJ, Grassmé H, Caldwell CC, Seitz A, Fraunholz M, Gulbins E. Staphylococcus aureus α-toxin disrupts endothelial tight junctions via acid sphingomyelinase and ceramide. Infect Immun. 2017 Oct 30. pii: IAI.00606-17. doi: 10.1128/IAI.00606-17.

Ma J, Gulbins E, Edwards MJ, Caldwell CC, Fraunholz M, Becker KA. Staphylococcus aureus α-Toxin Induces Inflammatory Cytokines via Lysosomal Acid Sphingomyelinase and Ceramides. Cell Physiol Biochem. 2017 Oct 25;43(6):2170-2184. doi: 10.1159/000484296.

Ruf F, Fraunholz M, Öchsner K, Kaderschabek J, Wegener C. WEclMon - A simple and robust camera-based system to monitor Drosophila eclosion under optogenetic manipulation and natural conditions. PLoS One. 2017 Jun 28;12(6):e0180238. doi: 10.1371/journal.pone.0180238. eCollection 2017.

Chowdhury SR, Reimer A, Sharan M, Kozjak-Pavlovic V, Eulalio A, Prusty BK, Fraunholz M, Karunakaran K, Rudel T. Chlamydia preserves the mitochondrial network necessary for replication via microRNA-dependent inhibition of fission. J Cell Biol. 2017 Mar 22. pii: jcb.201608063. doi: 10.1083/jcb.201608063 PMID: 28330939

Richter E, Harms M, Ventz K, Nölker R, Fraunholz MJ, Mostertz J, Hochgräfe F. Quantitative Proteomics Reveals the Dynamics of Protein Phosphorylation in Human Bronchial Epithelial Cells during Internalization, Phagosomal Escape, and Intracellular Replication of Staphylococcus aureus. J Proteome Res. 2016 Dec 2;15(12):4369-4386 PMID: 27762562

Strobel M, Pförtner H, Tuchscherr L, Völker U, Schmidt F, Kramko N, Schnittler HJ, Fraunholz MJ, Löffler B, Peters G, Niemann S. Post-invasion events after infection with Staphylococcus aureus are strongly dependent on both the host cell type and the infecting S. aureus strain. Clin Microbiol Infect. 2016 Sep 22(9):799-809. doi: 10.1016/j.cmi.2016.06.020 PMID: 27393124

Blättner S, Das S, Paprotka K, Eilers U, Krischke M, Kretschmer D, Remmele CW, Dittrich M, Müller T, Schuelein-Voelk C, Hertlein T, Mueller MJ, Huettel B, Reinhardt R, Ohlsen K, Rudel T, Fraunholz MJ . Staphylococcus aureus Exploits a Non-ribosomal Cyclic Dipeptide to Modulate Survival within Epithelial Cells and Phagocytes. PLoS Pathog. 2016 Sep 15;12(9):e1005857 doi: 10.1371/journal.ppat.1005857 PMID: 27632173; PMC5025175

Münzenmayer L, Geiger T, Daiber E, Schulte B, Autenrieth SE, Fraunholz M, Wolz C. Influence of Sae-regulated and Agr-regulated factors on the escape of Staphylococcus aureus from human macrophages. Cell Microbiol. 2016 Aug 18(8):1172-83. doi: 10.1111/cmi.12577 PMID: 26895738

Das S, Lindemann C, Young BC, Muller J, Österreich B, Ternette N, Winkler AC, Paprotka K, Reinhardt R, Förstner KU, Allen E, Flaxman A, Yamaguchi Y, Rollier CS, van Diemen P, Blättner S, Remmele CW, Selle M, Dittrich M, Müller T, Vogel J, Ohlsen K, Crook DW, Massey R, Wilson DJ, Rudel T, Wyllie DH, Fraunholz MJ . Natural mutations in a Staphylococcus aureus virulence regulator attenuate cytotoxicity but permit bacteremia and abscess formation. Proc Natl Acad Sci U S A. 2016 May 31;113(22):E3101-10 doi: 10.1073/pnas.1520255113 PMID: 27185949; PMC4896717

Mechler L, Herbig A, Paprotka K, Fraunholz M, Nieselt K, Bertram R. A novel point mutation promotes growth phase-dependent daptomycin tolerance in Staphylococcus aureus. Antimicrob Agents Chemother. 2015 Sep 59(9):5366-76. doi: 10.1128/AAC.00643-15 PMID: 26100694; PMC4538524

Tuchscherr L, Bischoff M, Lattar SM, Noto Llana M, Pförtner H, Niemann S, Geraci J, Van de Vyver H, Fraunholz MJ, Cheung AL, Herrmann M, Völker U, Sordelli DO, Peters G, Löffler B. Sigma Factor SigB Is Crucial to Mediate Staphylococcus aureus Adaptation during Chronic Infections. PLoS Pathog. 2015 Apr 29;11(4):e1004870 doi: 10.1371/journal.ppat.1004870 PMID: 25923704; PMC4414502

Ott C, Dorsch E, Fraunholz M, Straub S, Kozjak-Pavlovic V. Detailed analysis of the human mitochondrial contact site complex indicate a hierarchy of subunits. PLoS One. 2015 Mar 17;10(3):e0120213 doi: 10.1371/journal.pone.0120213 PMID: 25781180; PMC4363703

Grosz M, Kolter J, Paprotka K, Winkler AC, Schäfer D, Chatterjee SS, Geiger T, Wolz C, Ohlsen K, Otto M, Rudel T, Sinha B, Fraunholz M. Cytoplasmic replication of Staphylococcus aureus upon phagosomal escape triggered by phenol-soluble modulin α. Cell Microbiol. 2014 Apr 16(4):451-65. doi: 10.1111/cmi.12233 PMID: 24164701; PMC3969633

Remmele CW, Xian Y, Albrecht M, Faulstich M, Fraunholz M, Heinrichs E, Dittrich MT, Müller T, Reinhardt R, Rudel T . Transcriptional landscape and essential genes of Neisseria gonorrhoeae. Nucleic Acids Res. "2014;42(16):10579-95 doi: 10.1093/nar/gku762 PMID: 25143534; PMC4176332

Fraunholz M, Bernhardt J, Schuldes J, Daniel R, Hecker M, Sinha B. Complete Genome Sequence of Staphylococcus aureus 6850, a Highly Cytotoxic and Clinically Virulent Methicillin-Sensitive Strain with Distant Relatedness to Prototype Strains. Genome Announc. 2013 Sep 26;1(5). pii: e00775-13 doi: 10.1128/genomeA.00775-13 PMID: 24072870; PMC3784790

Zeth K, Kozjak-Pavlovic V, Faulstich M, Fraunholz M, Hurwitz R, Kepp O, Rudel T . Structure and function of the PorB porin from disseminating Neisseria gonorrhoeae. Biochem J. 2013 Feb 1;449(3):631-42 doi: 10.1042/BJ20121025Erratum in: Biochem J.

Faulstich M, Böttcher JP, Meyer TF, Fraunholz M, Rudel T . Pilus phase variation switches gonococcal adherence to invasion by caveolin-1-dependent host cell signaling. PLoS Pathog. "2013;9(5):e1003373 doi: 10.1371/journal.ppat.1003373 PMID: 23717204; PMC3662692

Fraunholz M, Sinha B. Intracellular Staphylococcus aureus: live-in and let die. Front Cell Infect Microbiol. 2012 Apr 24;2:43 doi: 10.3389/fcimb.2012.00043 PMID: 22919634; PMC3417557

Geiger T, Francois P, Liebeke M, Fraunholz M, Goerke C, Krismer B, Schrenzel J, Lalk M, Wolz C. The stringent response of Staphylococcus aureus and its impact on survival after phagocytosis through the induction of intracellular PSMs expression. PLoS Pathog. "2012;8(11):e1003016 doi: 10.1371/journal.ppat.1003016 PMID: 23209405; PMC3510239

Ziegler P, Teller S, Ha NH, Giese B, Fraunholz M, Walther R. Phosphoproteomic identification of a PDX-1/14-3-3ε interaction in pancreatic beta cells. Horm Metab Res. 2011 Mar 43(3):165-70. doi: 10.1055/s-0030-1270526 PMID: 21287435

Giese B, Glowinski F, Paprotka K, Dittmann S, Steiner T, Sinha B, Fraunholz MJ. Expression of α-toxin by Staphylococcus aureus mediates escape from phago-endosomes of human epithelial and endothelial cells in the presence of α-toxin. Cell Microbiol. 2011 Feb 13(2):316-29. doi: 10.1111/j.1462-5822.2010.01538.x PMID: 20946243

Wolf G, Hessabi B, Karkour A, Henrion U, Dahlhaus M, Ostmann A, Giese B, Fraunholz M, Grabarczyk P, Jack R, Walther R. The activation of the rat insulin gene II by BETA2 and PDX-1 in rat insulinoma cells is repressed by Pax6. Mol Endocrinol. 2010 Dec 24(12):2331-42. doi: 10.1210/me.2009-0220 PMID: 20943817

Stoll S, Feldhaar H, Fraunholz MJ, Gross R . Bacteriocyte dynamics during development of a holometabolous insect, the carpenter ant Camponotus floridanus. BMC Microbiol. 2010 Dec 1;10:308 doi: 10.1186/1471-2180-10-308 PMID: 21122115; PMC3009655

Rändler C, Matthes R, McBain AJ, Giese B, Fraunholz M, Sietmann R, Kohlmann T, Hübner NO, Kramer A. A three-phase in-vitro system for studying Pseudomonas aeruginosa adhesion and biofilm formation upon hydrogel contact lenses. BMC Microbiol. 2010 Nov 9;10:282 doi: 10.1186/1471-2180-10-282 PMID: 21062489; PMC2997771

Paprotka K, Giese B, Fraunholz MJ . Codon-improved fluorescent proteins in investigation of Staphylococcus aureus host pathogen interactions. J Microbiol Methods. 2010 Oct 83(1):82-6. doi: 10.1016/j.mimet.2010.07.022 PMID: 20708040

Lam TT, Giese B, Chikkaballi D, Kühn A, Wolber W, Pane-Farre J, Schäfer D, Engelmann S, Fraunholz M, Sinha B. Phagolysosomal integrity is generally maintained after Staphylococcus aureus invasion of nonprofessional phagocytes but is modulated by strain 6850. Infect Immun. 2010 Aug 78(8):3392-403. doi: 10.1128/IAI.00012-10 PMID: 20530231; PMC2916288

Köck K, Koenen A, Giese B, Fraunholz M, May K, Siegmund W, Hammer E, Völker U, Jedlitschky G, Kroemer HK, Grube M. Rapid modulation of the organic anion transporting polypeptide 2B1 (OATP2B1, SLCO2B1) function by protein kinase C-mediated internalization. J Biol Chem. 2010 Apr 9;285(15):11336-47 doi: 10.1074/jbc.M109.056457 PMID: 20159975; PMC2857012

Sinha B, Fraunholz M. Staphylococcus aureus host cell invasion and post-invasion events. Int J Med Microbiol. 2010 Feb 300(2-3):170-5. doi: 10.1016/j.ijmm.2009.08.019 PMID: 19781990

Giese B, Dittmann S, Paprotka K, Levin K, Weltrowski A, Biehler D, Lam TT, Sinha B, Fraunholz MJ . Staphylococcal α-toxin is not sufficient to mediate escape from phagolysosomes in upper-airway epithelial cells. Infect Immun. 2009 Sep 77(9):3611-25. doi: 10.1128/IAI.01478-08 PMID: 19564384; PMC2738027

Reder A, Höper D, Weinberg C, Gerth U, Fraunholz M, Hecker M. The Spx paralogue MgsR (YqgZ) controls a subregulon within the general stress response of Bacillus subtilis. Mol Microbiol. 2008 Sep 69(5):1104-20. doi: 10.1111/j.1365-2958.2008.06332.x PMID: 18643936

Scholz M, Fraunholz MJ . A computational model of gene expression reveals early transcriptional events at the subtelomeric regions of the malaria parasite, Plasmodium falciparum. Genome Biol. " 2008;9(5):R88 doi: 10.1186/gb-2008-9-5-r88 PMID: 18505551; PMC2441474

Hu K, Johnson J, Florens L, Fraunholz M, Suravajjala S, DiLullo C, Yates J, Roos DS, Murray JM. Cytoskeletal components of an invasion machine--the apical complex of Toxoplasma gondii. PLoS Pathog. 2006 Feb 2(2):e13. PMID: 16518471; PMC1383488

Fraunholz MJ . Systems biology in malaria research. Trends Parasitol. 2005 Sep 21(9):393-5. PMID: 16043412

Harb OS, Chatterjee B, Fraunholz MJ, Crawford MJ, Nishi M, Roos DS. Multiple functionally redundant signals mediate targeting to the apicoplast in the apicomplexan parasite Toxoplasma gondii. Eukaryot Cell. 2004 Jun 3(3):663-74. PMID: 15189987; PMC420125

Ralph SA, van Dooren GG, Waller RF, Crawford MJ, Fraunholz MJ, Foth BJ, Tonkin CJ, Roos DS, McFadden GI. Tropical infectious diseases: metabolic maps and functions of the Plasmodium falciparum apicoplast. Nat Rev Microbiol. 2004 Mar 2(3):203-16. PMID: 15083156

Foth BJ, Ralph SA, Tonkin CJ, Struck NS, Fraunholz M, Roos DS, Cowman AF, McFadden GI. Dissecting apicoplast targeting in the malaria parasite Plasmodium falciparum. Science. 2003 Jan 31;299(5607):705-8 PMID: 12560551

Bahl A, Brunk B, Crabtree J, Fraunholz MJ, Gajria B, Grant GR, Ginsburg H, Gupta D, Kissinger JC, Labo P, Li L, Mailman MD, Milgram AJ, Pearson DS, Roos DS, Schug J, Stoeckert CJ Jr, Whetzel P. PlasmoDB: the Plasmodium genome resource. A database integrating experimental and computational data. Nucleic Acids Res. 2003 Jan 1;31(1):212-5 PMID: 12519984; PMC165528

Fraunholz MJ, Roos DS. PlasmoDB: exploring genomics and post-genomics data of the malaria parasite, Plasmodium falciparum. Redox Rep. "2003;8(5):317-20. PMID: 14962373

Kissinger JC, Brunk BP, Crabtree J, Fraunholz MJ, Gajria B, Milgram AJ, Pearson DS, Schug J, Bahl A, Diskin SJ, Ginsburg H, Grant GR, Gupta D, Labo P, Li L, Mailman MD, McWeeney SK, Whetzel P, Stoeckert CJ, Roos DS. The Plasmodium genome database. Nature. 2002 Oct 3;419(6906):490-2 PMID: 12368860

Gardner MJ, Hall N, Fung E, White O, Berriman M, Hyman RW, Carlton JM, Pain A, Nelson KE, Bowman S, Paulsen IT, James K, Eisen JA, Rutherford K, Salzberg SL, Craig A, Kyes S, Chan MS, Nene V, Shallom SJ, Suh B, Peterson J, Angiuoli S, Pertea M, Allen J, Selengut J, Haft D, Mather MW, Vaidya AB, Martin DM, Fairlamb AH, Fraunholz MJ, Roos DS, Ralph SA, McFadden GI, Cummings LM, Subramanian GM, Mungall C, Venter JC, Carucci DJ, Hoffman SL, Newbold C, Davis RW, Fraser CM, Barrell B. Genome sequence of the human malaria parasite Plasmodium falciparum. Nature. 2002 Oct 3;419(6906):498-511 PMID: 12368864; PMC3836256

Matrajt M, Nishi M, Fraunholz MJ, Peter O, Roos DS. Amino-terminal control of transgenic protein expression levels in Toxoplasma gondii. Mol Biochem Parasitol. 2002 Apr 9;120(2):285-9 PMID: 11897133

Roos DS, Crawford MJ, Donald RG, Fraunholz M, Harb OS, He CY, Kissinger JC, Shaw MK, Striepen B. Mining the Plasmodium genome database to define organellar function: what does the apicoplast do? Philos Trans R Soc Lond B Biol Sci. 2002 Jan 29;357(1417):35-46 PMID: 11839180; PMC1692924

Bahl A, Brunk B, Coppel RL, Crabtree J, Diskin SJ, Fraunholz MJ, Grant GR, Gupta D, Huestis RL, Kissinger JC, Labo P, Li L, McWeeney SK, Milgram AJ, Roos DS, Schug J, Stoeckert CJ Jr. PlasmoDB: the Plasmodium genome resource. An integrated database providing tools for accessing, analyzing and mapping expression and sequence data (both finished and unfinished). Nucleic Acids Res. 2002 Jan 1;30(1):87-90 PMID: 11752262; PMC99106

Douglas S, Zauner S, Fraunholz M, Beaton M, Penny S, Deng LT, Wu X, Reith M, Cavalier-Smith T, Maier UG. The highly reduced genome of an enslaved algal nucleus. Nature. 2001 Apr 26;410(6832):1091-6 PMID: 11323671

Deane JA, Fraunholz M, Su V, Maier U-G, Martin W, Durnford DG, McFadden GI. Evidence for nucleomorph to host nucleus gene transfer: light-harvesting complex proteins from cryptomonads and chlorarachniophytes. Protist. 2000 Oct 151(3):239-52. PMID: 11079769

Lockhart PJ, Huson D, Maier U, Fraunholz MJ, Van De Peer Y, Barbrook AC, Howe CJ, Steel MA. How molecules evolve in eubacteria. Mol Biol Evol. 2000 May 17(5):835-8. PMID: 10779544

Maier UG, Fraunholz M, Zauner S, Penny S, Douglas S. A nucleomorph-encoded CbbX and the phylogeny of RuBisCo regulators. Mol Biol Evol. 2000 Apr 17(4):576-83. PMID: 10742049

Zauner S, Fraunholz M, Wastl J, Penny S, Beaton M, Cavalier-Smith T, Maier UG, Douglas S. Chloroplast protein and centrosomal genes, a tRNA intron, and odd telomeres in an unusually compact eukaryotic genome, the cryptomonad nucleomorph. Proc Natl Acad Sci U S A. 2000 Jan 4;97(1):200-5 PMID: 10618395; PMC26640

Wastl J, Fraunholz M, Zauner S, Douglas S, Maier UG. Ancient gene duplication and differential gene flow in plastid lineages: the GroEL/Cpn60 example. J Mol Evol. 1999 Jan 48(1):112-7. PMID: 9873083

Fraunholz MJ, Moerschel E, Maier UG. The chloroplast division protein FtsZ is encoded by a nucleomorph gene in cryptomonads. Mol Gen Genet. 1998 Nov 260(2-3):207-11. PMID: 9862473