TRR 240 "Thrombozyten - molekulare, zelluläre und systemische Funktionen unter physiologischen und pathologischen Bedingungen"
Our Support Project (INF)
Besides infrastructure for data storage, pointers and exchange for the whole CRC we analyze, process and integrate the public and protected CRC-TRR240 data in our easy to navigate Virtual Platelet Platform ViPP. This includes scientific simulations as well video-tutorials and other teaching material (Virtual Platelet Classroom "ViP-Class"). It builds on our previous work on molecular data integration with a platelet web systems biological workbench, including metabolic, regulatory and dynamical models and simulations for platelet activation and inhibition. This is complemented by imaging data and advanced image analysis tools: Data of Electron Tomograms, and different fluorescence approaches such as confocal, time-lapse, intravital, or light-sheet microscopy. ViPP integrates molecular, pathway/compartment and intercellular/tissue information in a novel way. Corresponding molecular, network and image processing software, protocols and pipelines will be part of ViPP. We will follow the vision of an integrated, new and powerful research environment, where omics data provide highest resolution, blending in with imaging data on various scales including data on cellular processes and responses as well as simulations. The first period will explore this new level of data integration. The long term goal is active participation and ultimately a fine grained Virtual Research Environment for platelets.
Current state of understanding To date
there are two major challenges regarding Big Data in both genome genome-scale technologies ("-omics") and imaging: First, the massive amount of data need to be stored, retrieved, and 'directly' accessible, second the data need to be analysed, and resulting meta data or models need to be made available to the scientist involved. One start requirement particular for reliable –omics data is Standard Operation Procedures (SOPs) to provide a framework for data comparability and reproducibility.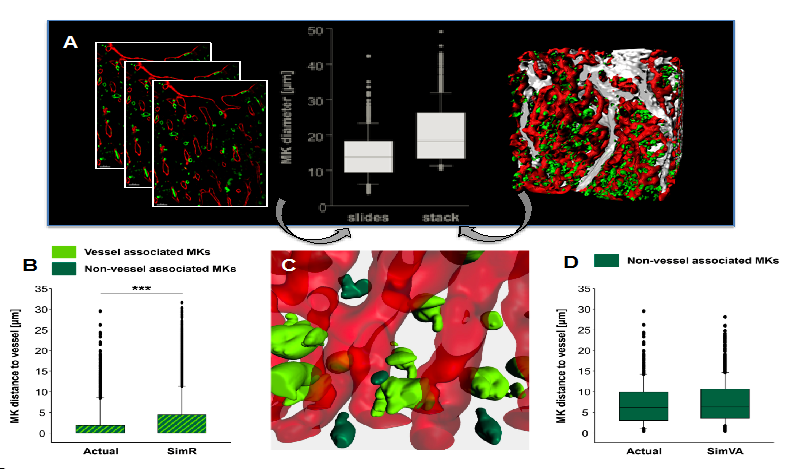 Figure: Mouse sternum bone marrow images ((A, KH, unpublished) and simulations (B-D, derived from VI): (A) shows densely packed vasclature (red), MKs (green) and bone (grey) in 2D (left) and 3D (right) with analysis of examplied slides and corresponding stack( middle). (B)-(D) shows simulated MK distribution (n=6 simulations) using blood vessels (red) and MKs (green) from segmented imaging data. (B) The average distance of random distributed MKs to the vessel (SimR) is increased compared to actual data. ***, p<0.001. (C) Simulated vessel-associated MKs (light green) versus non-vessel-associated MKs (dark green). (D) MKs display a vessel-biased random distribution: Random simulation of only the non-vessel associated MK population results in MK-vessel distances matching the 3D imaging data. This is complemented by analysis of the involved molecular components and networks (TD), here focusing on MK and collagen IV or I interaction in the extracellular matrix, critical for platelet generation by MKs.
Principal investigator(s)
Thomas Dandekar, Prof. Dr. med.

Lehrstuhl für Bioinformatik, Biozentrum

Universität Würzburg

Am Hubland

97074 Würzburg

Phone: +49 931 31-84551

E-mail: dandekar@biozentrum.uni-wuerzburg.de

Katrin G. Heinze, Prof. Dr. rer. nat.

Bio-Imaging-Zentrum und Rudolf-Virchow-Zentrum

Universität Würzburg

Josef-Schneider-Str. 2 / D15

97080 Würzburg

Phone: +49 931 31-84214

E-mail: katrin.heinze@virchow.uni-wuerzburg.de