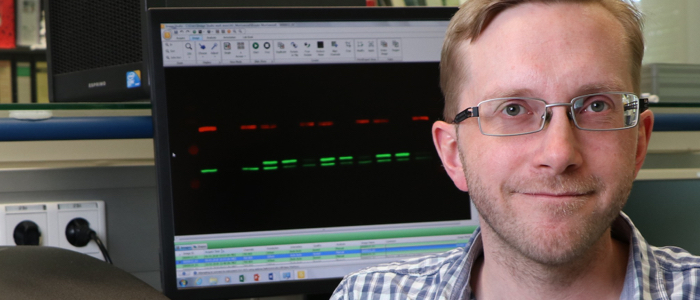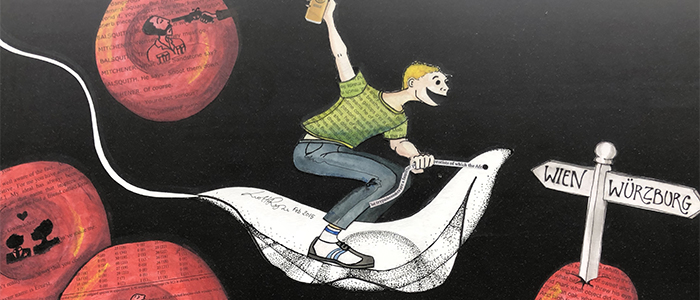 ... is a molecular cell biologist with interests in the cytoskeleton and membrane trafficking. He graduated from Cambridge University (2002) with a degree in biochemistry, and completed doctoral studies under the supervision of John Kendrick-Jones at the Laboratory of Molecular Biology, Cambridge (2006). He carried out postdoctoral studies in the laboratory of Graham Warren at Yale University (2007) and the Max F. Perutz Laboratories in Vienna (2008-2014). Brooke joined the Biocenter in April 2015.
He is the writer of the Total Internal Reflection science blog (https://totalinternalreflectionblog.com). Twitter: @TIRscienceblog
Since 2015: Junior group leader, Cell and Developmental Biology, University of Würzburg
2008-2014: Postdoc, Max F. Perutz Laboratories, Vienna, Austria
2007 Postdoc: Yale University, USA
2006: PhD, Laboratory of Molecular Biology, Cambridge, UK
brooke.morriswood(at)uni-wuerzburg.de
Tel ++49 93131 83556
The cytoskeleton of Trypanosoma brucei is essential for its viability, and contributes to a number of cellular processes including membrane trafficking and motility.
Several discrete cytoskeletal structures are clustered around the neck of the flagellar pocket, an invaginated subdomain of the plasma membrane which is the sole site of endo- and exocytosis in T. brucei. One of these structures is a multiprotein complex defined by the repeat-motif protein TbMORN1. The morphology, composition, and function of this complex is the primary focus of Brooke's research. Experimental approaches involve a combination of light microscopy, fluorescence microscopy and electron microscopy, together with biochemical and functional assays. TbMORN1 was the focus of a highly-successful screen using proximity-dependent biotinylation (BioID), and this technique remains a cornerstone of the lab's work.
The second main theme in the laboratory is focused around the actomyosin system in trypanosomes, and specifically their myosin motor proteins. T. brucei exhibits a dramatically reduced actomyosin complement relative to metazoan cells, making it an ideal model system for some fundamental questions in eukaryotic cell biology.
Interested? We are always on the lookout for talented Bachelor's and Master's students - e-mail Brooke (brooke.morriswood@uni-wuerzburg.de) to arrange a chat. There are currently no funded positions available for PhD students or postdocs, but if you interested in joining the team then get in touch to discuss options...
Recent research publications